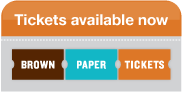 Please make sure you receive an email confirmation from Brown Paper Tickets after your purchase. If you DO NOT receive an email confirmation, your purchase DID NOT go through. Please call BPT at 800-838-3006 or email support@brownpapertickets.com.
New Roads School's Ann and Jerry Moss Theater
3131 Olympic Blvd. Santa Monica, CA 90404
Mark Bittman is one of our favorite food writers because he makes cooking great meals just so easy. He presents us with recipes that look great, sound great and smell great straight from the pages of his New York Times Magazine pieces, or from his numerous books. His recipes are straightforward, and feature ingredients that we already have. They are perfect because he tells us to use them as guidelines—no strict measurements required. Remember recipes we received with bewilderment from grandmothers who advised "a little" of this, or "a pinch" of that? He frees us from the tyranny of the measuring spoon and assures us that there are so many variations on a good theme, so we can't possibly go wrong. In our family, we have Mark Bittman to thank for countless great standards that take no time to prepare, use accessible ingredients, and taste simply terrific. He encourages experimentation, but doesn't require it when we're lazy or feeling tied to tradition.
In his new book, VB6: Eat Vegan Before 6 to Lose Weight and Restore Your Health For Good, Bittman explains how he managed to lose an enormous amount of weight, stave off medication, and forgo none of his favorite foods. He is a professional food writer, after all—and collateral damage of being a national professional food writer is loving the stuff that can kill you. He gives up nothing, and give us an enormous helping of guidance, ideas and of course easy recipes along the way.
Evan Kleiman gives us great ideas every week too. You hear her on KCRW's Good Food on Saturday mornings as she walks us through what's fresh at the moment, and hands us ideas by the pound for fruits and vegetables, and anything that strikes her. A true adherent of simplicity in cooking, she opened the restaurant Angeli in 1984, and many credit her with creating the popular rustic Italian food trend that specializes in fresh and light ingredients. Evan's activism in agro-ecology and food policy is not hindered at all by her devotion to pie.
The event will take place at New Roads School's Ann and Jerry Moss Theater: a brand new, state of the art theatre located on the New Roads campus in Santa Monica, 3131 Olympic Blvd. Santa Monica, CA 90404.
Limited parking is available in the New Roads parking lot, located between Olympic Blvd. and Nebraska; limited street parking is also available. Please make sure to read signs carefully as much of the nearby areas are restricted.